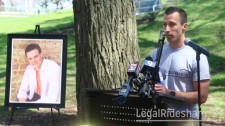 CHICAGO, September 26, 2019 (Newswire.com) - As the rideshare industry turned the world upside down and changed how people got from Point A to Point B, LegalRideshare's co-founder, Bryant Greening, made sure those companies were held accountable. 
LegalRideshare is the first law firm to focus exclusivity on Uber, Lyft, and e-scooter accident and injuries. Based in Chicago, LegalRideshare has grown into a national brand. The firm has become the go-to source on rideshare-related issues, serving hundreds of clients, being featured on national media platforms and earning millions in fees.
"Rideshare feels like a very comfortable experience and something we have welcomed into our everyday life, but at the end of the day, you need to stay vigilant. Rideshare safety is the chief goal of LegalRideshare," Greening said. 
Greening has been instrumental in fighting for driver's rights and helping injured passengers get the compensation they deserved. Greening has recently made national headlines fighting for a severely injured bicyclist after an e-scooter user hit the rider and fled.  
"We get calls every day from passengers and drivers who have been attacked, assaulted, harassed. We as a community need to make sure we are doing all we can to stay safe." 
CONTACT INFORMATION:
(312) 767-7950
Source: LegalRideshare
Share: